Where is Punta Cana?
In the Center of the Caribbean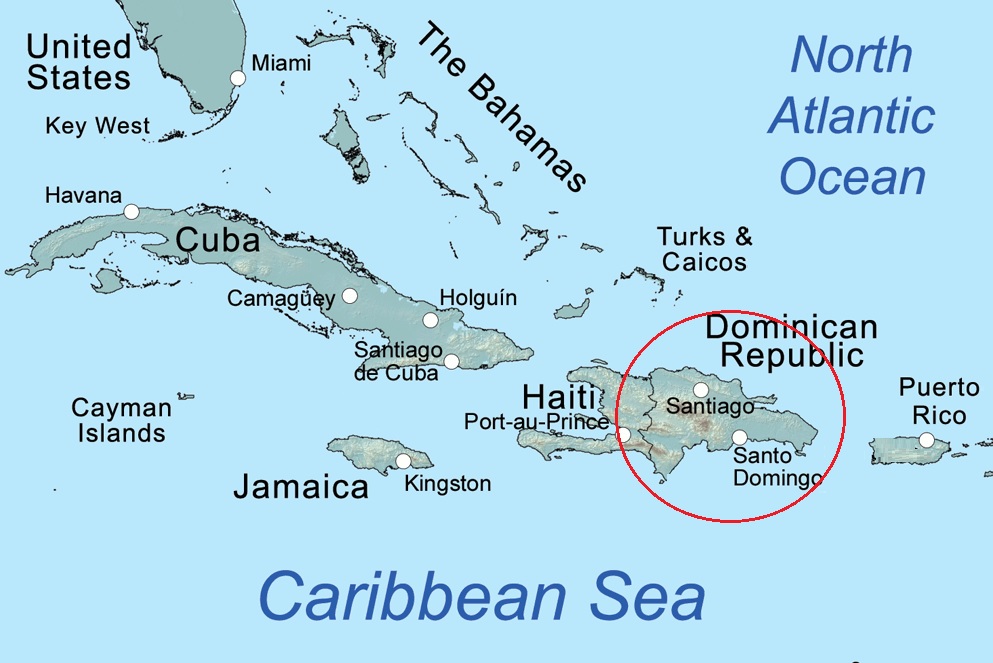 At about 48,442 square kilometers (18,704 square miles), the Dominican Republic is about the same size as the Netherlands, and together with Haiti, it forms Hispaniola Island, which rests between the Atlantic Ocean and the Caribbean Sea.

The Dominican Republic lays claim to 800 miles / 1300 km of shoreline and the highest peak in the Caribbean: Pica Duarte, which is 10,700 feet / 3000 m. above sea level.
Punta Cana Map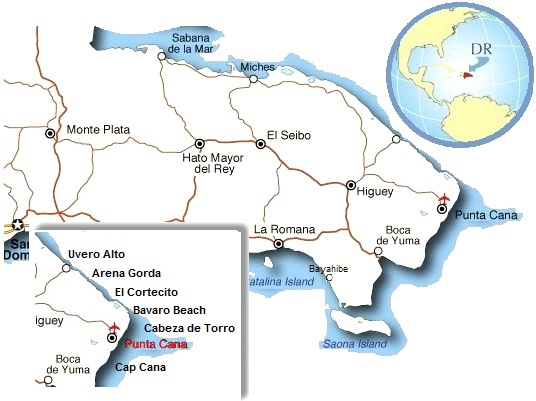 Punta Cana lies on the eastern shore of the nation, right at the junction between two bodies of water - the Atlantic and the Caribbean Sea-, the contrasting currents here produce remarkable biodiversity that is great for scuba diving and snorkeling.
The greater Punta Cana Area
While Punta Cana proper is no more than a small hamlet near the airport, many refer to the entire East Coast by this name. This greater area holds the following smaller regions, as follows, from North to South: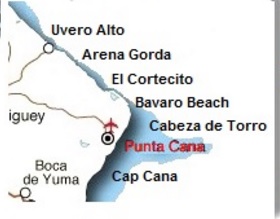 Punta Cana Zones:
Some organizations and individuals also lump in the southern region of Bayahibe & Dominicus.
The map below outlines the areas wherein one finds the majority of tourist attractions:
Dominican Republic - Geographical Facts
| | |
| --- | --- |
| Location: | Shares island of Hispaniola with Haiti - border with Haiti: 360 km |
| Geo coordinates: | 19 00 N, 70 40 W |
| Area: | Total: 48,670 sq km, of which land: 48,320 sq km and water: 350 sq km |
| Area - comparative: | Slightly more than twice the size of New Hampshire |
| Coastline: | 1,288 km - bordering the Atlantic Ocean in the North and the East; and the Caribbean Sea in the South |
| Climate: | Tropical maritime; little seasonal temperature variation; seasonal variation in rainfall - check The Weather here |
| Terrain: | Rugged highlands and mountains with fertile valleys interspersed |
| Elevation extremes: | lowest point: Lago Enriquillo -46 m; highest point: Pico Duarte 3,175 m |
| Natural hazards: | Lies in the middle of the hurricane belt and subject to severe storms from June to October; occasional flooding; periodic droughts |
| Environment issues: | water shortages; soil eroding into the sea damages coral reefs; deforestation |
| | Source: The World Factbook |
Getting there:
Most tourist - about 5 million a year actually - arrive to Punta Cana by air. However one can also arrive by land (arriving at one of the other international airports in the country) or even by sea.

More In This Sector: